You are
"I am willing to learn, to contribute, to develop my skills and spend as much time possible watching football on video and live, every week, for the full lenght of every single module on this education, with the end goal of finding my own way, within the world of scouting"
You get
InStat, free access to one of our InStat accounts
(In the period, you are a part of the education)
Estimated Value 1.999, – Euro
You want to
"I want to work in the world of football & Working as a football scout, have always been my dream"
We will
Provide you with the education, knowhow, the tools, the education and show you more than one way, making you able to choose, your future way in football.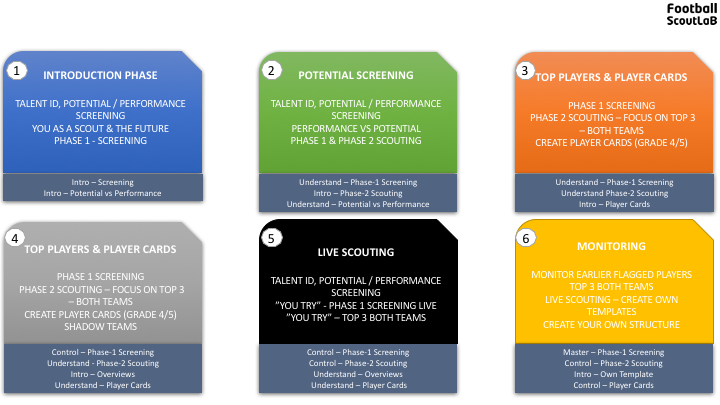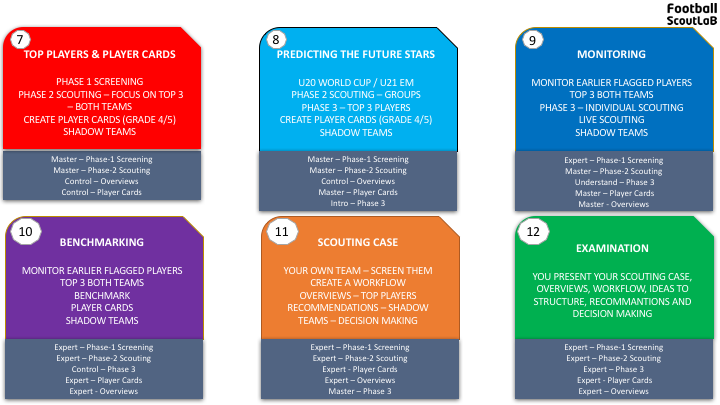 If you can see yourself in the above statements, thats a good first step, for you knowing that this scouting program is something for you.
If you want to get the most out of this scouting education, you need to be willing and eager to learn, to contribute, to watch a minimum of 8-9 games on video per module (12 modules in total).  As a part of the modules, you will watch games on video and be asked to watch games live, in your local area, at senior and/or youth level.
On the scout education, you can expect to be educated within every aspect of the football scouting industri, you will get knowledge about different systems, tools, report templates and ways to work. 
Our clients demands top quality, knowledge about the different markets, hard work and dedication. 
Demands that we every day do our very best to live up to and expect you to do as well.
About us:
Football ScoutLaB covers several european countries as well as countries in south and central america, through video scouting and live scouting. 
Football ScoutLaB services: team screenings, TOP 3 player scouting, individual player reports, opponent analysis, country shadow teams and individual player cards.
Expectations, Scout education:
As a scout on the scout education, among other things, you are required to watch a minimum of 8-9 games on video, per module.
– for us, you need to work and get comfortable with every aspect of the "scouting game" and for us educating the future scouts within football, its about quality, not quantity.
You will receive individual feedback on your weekly game reports, as well as your other work.
You will be assigned a scouting instructor, who will be your direct contact person throughout the scouting education.
*Live scouting: When you are asked to do live scouting, it will be done in your own local area, when it suits your individual weekly program and at your own expense.
All skype meetings, work, reports and communication will be done in English and we have throughout our previous programmes worked with scouts from all parts of the world.
What do you get:
Access to our online scouting education platform
Acces to all of our scouting templates, in a format, that you can use after your scouting education through us 
1 to 1 feedback, through whatsApp / email and skype with your personal instructor
Free access to Instat Scout (Value 1.999 Euro a year)
You will learn from the best and with a scouting education from us, you will have created you own platform of knowledge, experience and network. For the better of your future scouting career.
Period and starting dates: 
We start with new scouting programs, every third month, the next scouting program, that you can sign up for, will be:
To be announced (end of 2020)
Scouts making it all the way through our scouting program, will receive a certificate of their scouting education at Football ScoutLaB. 
In our experience, scouts coming through our programs, are very attractive for clubs and football agencies, across europe and having us and our company as a reference, will help you kick of a future within the world of scouting.
Our way of building our company, is getting the best scout trainees or scout interns on board during or after their education, as a part or full time employee.
How does it work and how do I sign up?:
When you sign up to participate, you can pay for the whole scouting education at once or you can break up the payments and pay for the modules as a package of three or six modules.
Prices
12 Modules: 1.999 Euro, –
Module 1,2,3: 649 Euro, –
Module 4,5,6: 649 Euro, –
Module 7,8,9: 649 Euro, –
Module 10,11,12: 649 Euro, –
Modules 1-6: 1.199 Euro, –
Modules 7-12: 1.199 Euro, –
Modules – Pay as you go: Price per Module 275 Euro
– You will as soon as you have secured your place, by buying your chosen plan/modules on our shop, be given a "user" for the FootballScoutLaB.com education platform, which gives you access to an "intro site", where you can get a feeling of what it is that you will work with during the scouting program.
When we have registered your payment, you will be granted access to the modules that you have paid for and give you an access to an Instat Scout account you can use, during the modules that you have paid for.
Questions and contact information:
Should you have any question, please contact us through mail, contactus@mellemmand.com
Our 2015 Scout trainee, Alvaro Ladron, moved on to be Sports Director in an agency and is now working with the top Spanish Club, Real Betis as a first team scout.
Our 2018 scout intern, Andrii Fedchenkov, where a part of the program for a couple of months, before taking a position as a scout at Shakthar Donetsk.
Our 2018 scout trainee, Andreas Wagner, landed a job at the danish top team, Brøndby IF, starting the 1st of January 2019, as a part time youth scout. After a succesfull scouting internship with Mellemmand.com