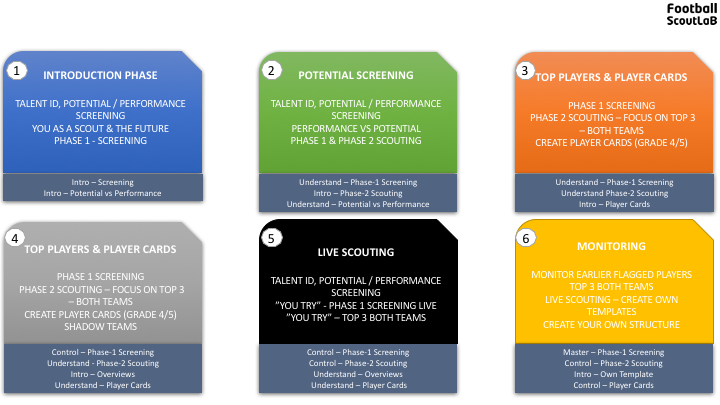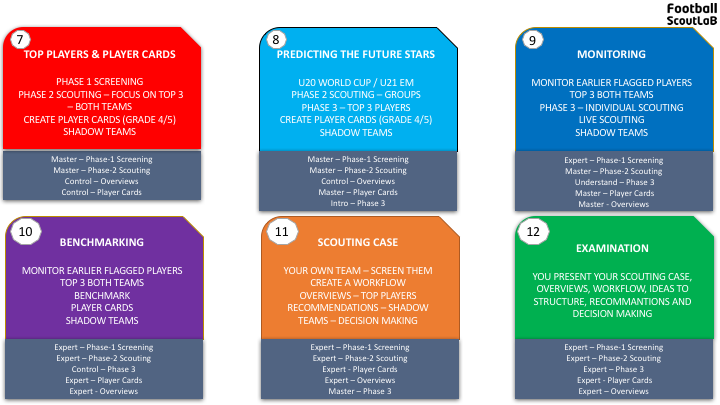 Who do you think is the best player?
Having something to say is not difficult. But having an opinion to share, that is based of a platform of knowledge of football players, teams and leagues. That doesn't come easy, it requires hard work, a direction and people with knowledge, that are willing to share their knowledge, opinions and scouting tools.
We have learned, through our experience in football, that finding a way in to football and scouting can be difficult.
This is why, we have created ScoutLaB, a scouting education platform, where people interested in scouting at all levels, can go and receive scouting education, either through our paid scout education program or through our free scout mentor program.
The difference in the free and the paid education programs is quite easy to explain. With the paid programs, people can follow a scout education program, at a pace that suits them. We give recommendations for each education module, that is there to make sure that people get the most out of each education module and each scouting education programs. 
The free scout mentoring program is quite straight forward, people taking part in these programs, have to apply to take part, they have to do an intro task, to show what current level they have and they need to do a minimum of games per week throughout the free scout mentoring program.
For us the free scout mentoring programs is an investment, an investment in to identifying future scouts, that we can employ at Mellemmand or that we can refer to our partner clubs.
ScoutLaB – Scout Mentoring Program, August 2020
Do you want to be a part of our next free scout mentoring program?
Do you want to invest time and effort in your future in football scouting?
Are you willing to learn, to contribute and to watch a lot of games on video in a short amount of time? 
Now is your chance to join our "Scout – Mentor Program".
In the mentor program, you can expect to be educated within every aspect of the football scouting industri, get knowledge about different systems, tools, report templates and ways to work. 
Our clients demands top quality, knowledge about the different markets, hard work and dedication. Demands that we every day do our very best to live up to and expect you to do as well.
About ScoutLaB:
ScoutLaB covers more than 15 countries and 20 leagues on a weekly basis. Our main focus is the european countries, but we also cover several leagues in Asias, the middle east and in USA. 
Expectations, Scout Mentor Program participants:
Location: 
Video scouting, from home.
Live Scouting, closest possible to home.
Salary: 
Not paid.
Weekly load:
Participants must be ready to watch 4-5 games a week on video, do the game reports and participate in our internal online education program.
All meetings, work, reports and communication will be done in English and we are looking for participants, from all over the world.
Starting date: 24th of august 2020.
Period: 12 weeks (1 module, 1 week)
We provide the participants with:
– FREE, Full scouting education program. 
– FREE, Full access to Instat Scout / Database with games (first 4 modules).
– FREE, Access to our knowledge and scouting templates.
– FREE, Feedback on your scouting work, from our instructors.
– FREE, Access to a group of scouts, with the same aim and interest as you.
Our Goal with the mentor program
Our end goal is to find 1-2 scouts per year, that can develop and become a part or full time scout, for our company.
Diploma
Scouts making it all the way through our program, will receive a diploma for their participation.
(Participants, that are not able to live up to the expectations above, will be removed from the mentor program and wont receive any diploma.)
In our experience, scouts coming through our education programs, are very attractive for clubs and football agencies.
Instructor
Fabio Mazzone, our Head of Video scouting, will be the main scout instructor and mentor in this program
Questions?
Should you have any questions, then feel free to send us a mail: contactus@mellemmand.com
What do former participants say?
See what former participants think of our scouting program, just below.
Do you want to join our next Scout Mentoring Program?
See how to apply in the bottom of this page.
Our 2015 Scout trainee, Alvaro Ladron, moved on to be Sports Director in an agency and is now working with the top Spanish Club, Real Betis as a first team scout.
Our 2018 scout intern, Andrii Fedchenkov, where a part of the program for a couple of months, before taking a position as a scout at Shakthar Donetsk.
Our 2018 scout trainee, Andreas Wagner, landed a job at the danish top team, Brøndby IF, starting the 1st of January 2019, as a part time youth scout. After a succesfull scouting internship with Mellemmand.com 
Send us your football cv and let us know, why you should join the next scout mentoring program?.
Closing date for applications: 16th of August 2020
Proces:
1 – Send your football cv and motivation letter to: contactus@mellemmand.com
2 – Succesfull candidates, will receive an invitation, to do a "scouting case", watching 4 games on video and doing 4 reports, from our templates and having previous reports as eksamples to follow.  Candidates, will have 5 days, to complete the scouting case.
3 – Succesfull candidates, handing their scouting case in on time and with quality in their work, will be invited for a Skype interview.
4 – Succesfull candidates, will start the free scout mentoring program on the 24th of august 2020.
If you have any questions, don't hesitate to contact us, we look forward hearing from you.